Capacitação em Mikrotik RouterO
Mikrotik RouterOS Training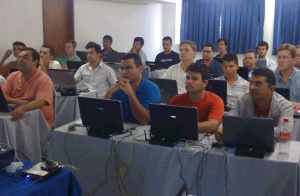 The MikroTik RouterOS is an operating system "carrier class" that has gained a significant market share in Information Technology for its numerous features, robustness, stability and especially the ease of use. Based on Linux, the system can be installed on a common PC or embedded in compact boards SBC (Single Board Computer), for example, Routerboards made by the developers of Mikrotik RouterOS.
One of the great features that distinguish the Mikrotik other competing systems is the ease with certainty that the configuration interface provides the user / network administrator. With simple click of the mouse's complex rules are implemented Firewall, QoS, dynamic routing protocols, etc..
Such features are useful both for professionals who already have solid concepts of networks, as for those who are starting their learning. The first are the Mikrotik resources to significantly increase their productivity with reduced effort and can use the maximum that the system offers. On the other hand, entry-level professionals in Mikrotik are the ideal tool for growth because of the simplicity of handling settings allows a greater focus on the concepts involved without the usual and often excessive concerns about implementation details such as syntax rules for example, providing a very steep learning curve.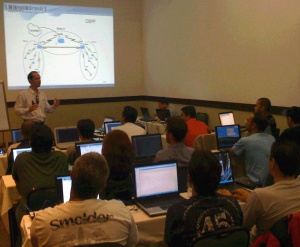 The Training of MD Brazil (MikrotikBrasil) aims to meet these two audiences, both those more experienced as newcomers and giving them all the basics and advanced features that allow the best use of resources Mikrotik RouterOS.
Taught by professionals with extensive training and experience, the course seeks to combine conceptual approaches and their practical implementations using the system. Typically training is conducted with a routerboad per participant and actual scenarios are presented for participants to discuss and implement solutions based on Mikrotik RouterOS.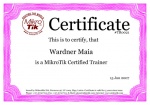 The MD Brazil (MikrotikBrasil) was the first Brazilian company to qualify as "Mikrotik Training Partner", this accreditation was obtained in 2006 through the first International Certification as a Trainer for a Brazilian, and number 21 worldwide.
Having been accredited MD Brazil has about 600 trained professionals every year since held regular trainings in major Brazilian cities.
In addition to the certification necessary to promote training for MD in Brazil has its frame with the following professional certifications Mikrotik RouterOS:
MTCRE - Mikrotik Certified Wireless Engineer.
MTCWE - Routing Mikrotik Certified Engineer.
MTCTCE - Mikrotik Certified Traffic Control Engineer.
MTCUME - User Management Mikrotik Certified Engineer
The training is sponsored by MikrotikBrasil Mikrotik International recognition of and participants can make the end of the certification exam administered on the program, take this done directly on the Web Site Mikrotik International.